Events
Letter from The Hon Andrew Robb AO MP to Mr Bashir Keshtiar of the Australian-Afghan Business Council
February 2016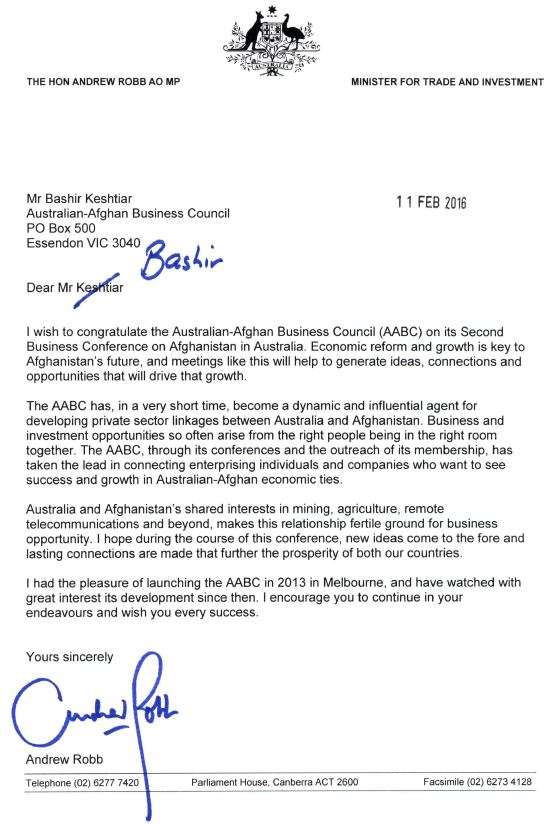 Australian support for the Afghan National Army Officer's Academy
December 2015
Assistance from the Australian Embassy has helped provide more than 1,000 manuals containing Afghan military doctrine to the Afghan National Army Officer's Academy. The production allows for every instructor and officer cadet at the Academy to own their own individual copy. It is the first time in the Academy's three year history officer cadets will have a copy of military doctrine to call their own. The Academy teaches Afghan National Army officers key leadership and tactical skills. Members of the Australian Defence Force have been central to the early success of Academy, proving mentoring to advise and assist the Afghan instructors.
Celebrating Afghan women
27 October 2015
Braving the autumn chill, Afghans and the international community came together at the Australian Embassy in Kabul to celebrate the achievements of Afghan women. The event on 27 October, co-hosted by the Canadian Embassy, was themed "the Power of Afghan women" and was attended by ambassadors from a range of countries, Afghan Ministers and Members of Parliament, and the First Lady of Afghanistan, Her Excellency Rula Ghani.

The event formed part of Australia's work advocating for the rights of women and girls in Afghanistan. Australia's Ambassador to Afghanistan, Matt Anderson, said "advancing and empowering women in Afghanistan requires a strong commitment, and political and social support for human rights by all stakeholders". He reiterated Australia's support for the women and girls of Afghanistan, particularly our commitment to ending violence against women.

The Ambassador also announced $2 million would be provided to UNWomen from Australia's Gender Equality Fund. This funding is in addition to $10 million already provided to UNWomen through Australia's Ending Violence Against Women (EVAW) program in Afghanistan. Nearly 90 percent of women in Afghanistan experience some form of violence in their lifetime, yet there are often limited options for these women to seek recourse or assistance, underscoring the importance of this program. The $22.7 million EVAW program in Afghanistan works with the Afghan Government to support activities that protect, promote and empower Afghan women and girls.
Funded by the Australia Government since 2013, UNWomen's work in Afghanistan has already made a significant difference in the lives of women and girls fleeing violence. Over 1,700 women throughout Afghanistan accessed support from UNWomen during 2014-15 alone, including accessing protection shelters. A shelter in Kabul run by one of UNWomen's implementing partners has become home to two young women who fled forced marriages as children, and faced uncertain futures. With support from UNWomen, these girls have graduated from high school and gone on to study at university. Other women living in the shelter have accessed literacy training and were able to find employment with the shelter organisation. However, many other women languish in shelters for extended periods of time, with no realistic options for returning home or resuming a normal life. With this additional funding, UNWomen will be able to provide these women with training, mentoring or entrepreneurial opportunities, to give them the chance to earn their own incomes and reintegrate back into communities.
Photo Exhibition Celebrates Achievements of 'Children of Uruzgan'
8 September 2015
Afghanistan's First Lady, Her Excellency Rula Ghani, attended a photo exhibition to celebrate the success of the Children of Uruzgan program at the Australian Embassy on 7 September.
The exhibition celebrated the work of the Afghans and expatriates who delivered the $36 million Save the Children program funded by the Australian Government from 2011-2015.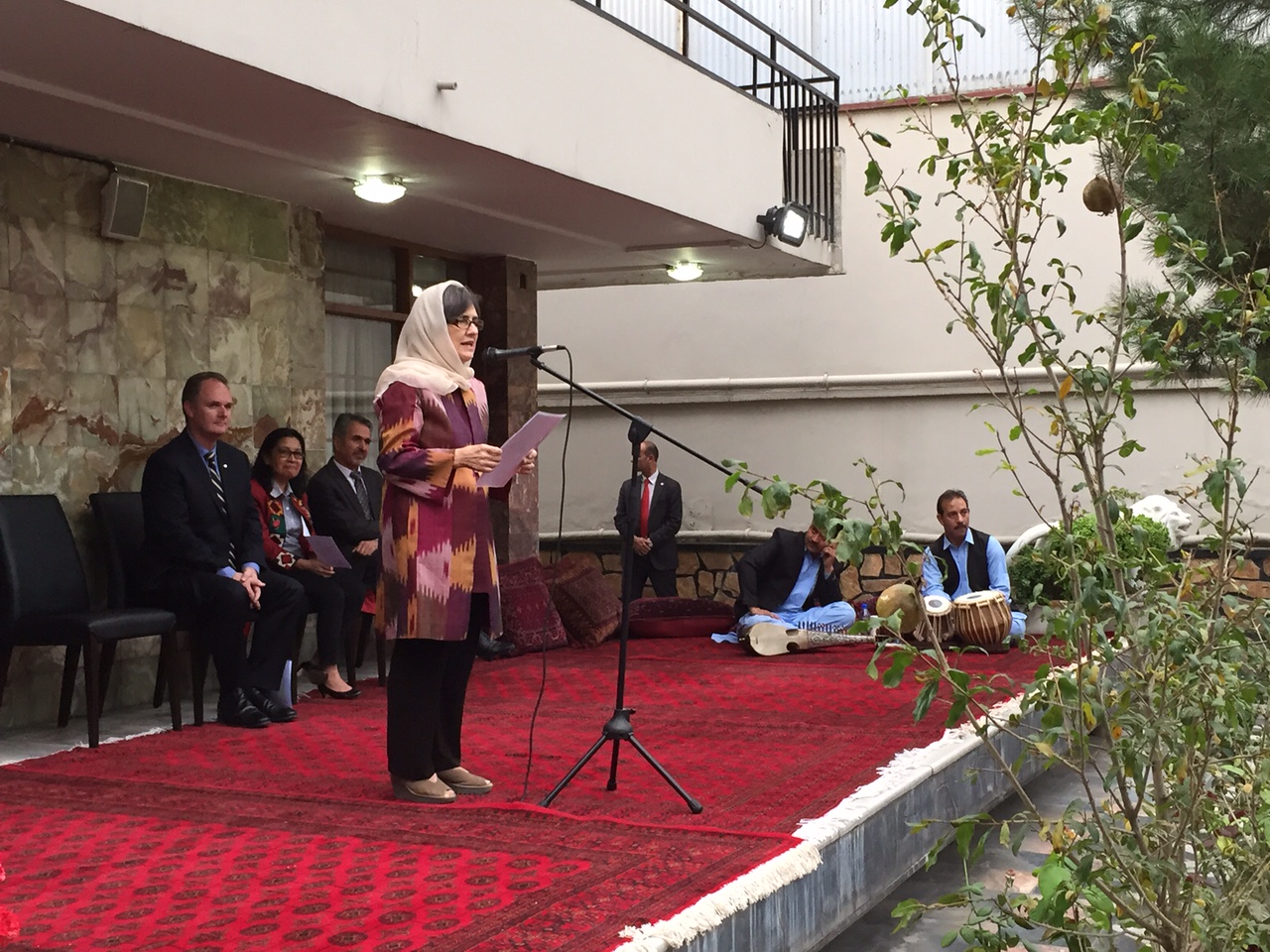 Photo: First Lady H.E Rula Ghani addresses the crowd at the Children of Uruzgan photo exhibition
The program began as part of Australia's involvement with the Provincial Reconstruction Team in Uruzgan and completed activities throughout the province in June this year. The program made significant health and education gains, in particular for women and girls, in a province blighted by war, poverty and natural disaster.
With Australia's support there are now 40 girls' schools and more than 250 schools in total in Uruzgan Province. These are attended by 60,000 students, nearly 10,000 of them girls. Children of Uruzgan established community-based education classes in the most difficult to access areas, providing 4,000 children, including more than 1,000 girls, with access to basic education.
The program funded nearly 300 community development projects such as clean water wells, and built three community libraries and two parks for women and children.
It also established health centres and trained health teams that provided more than 150,000 consultations last year, mostly to women and girls.
Improvements to maternal health care saw the rate of pregnant women receiving professional antenatal care more than doubled to 90 percent, and the number giving birth with a skilled attendant increased from 22 to 64 percent. Twenty four new midwives and 22 female nurses were trained and many are now deployed at public health facilities in Uruzgan, providing more than 100 safe deliveries each month.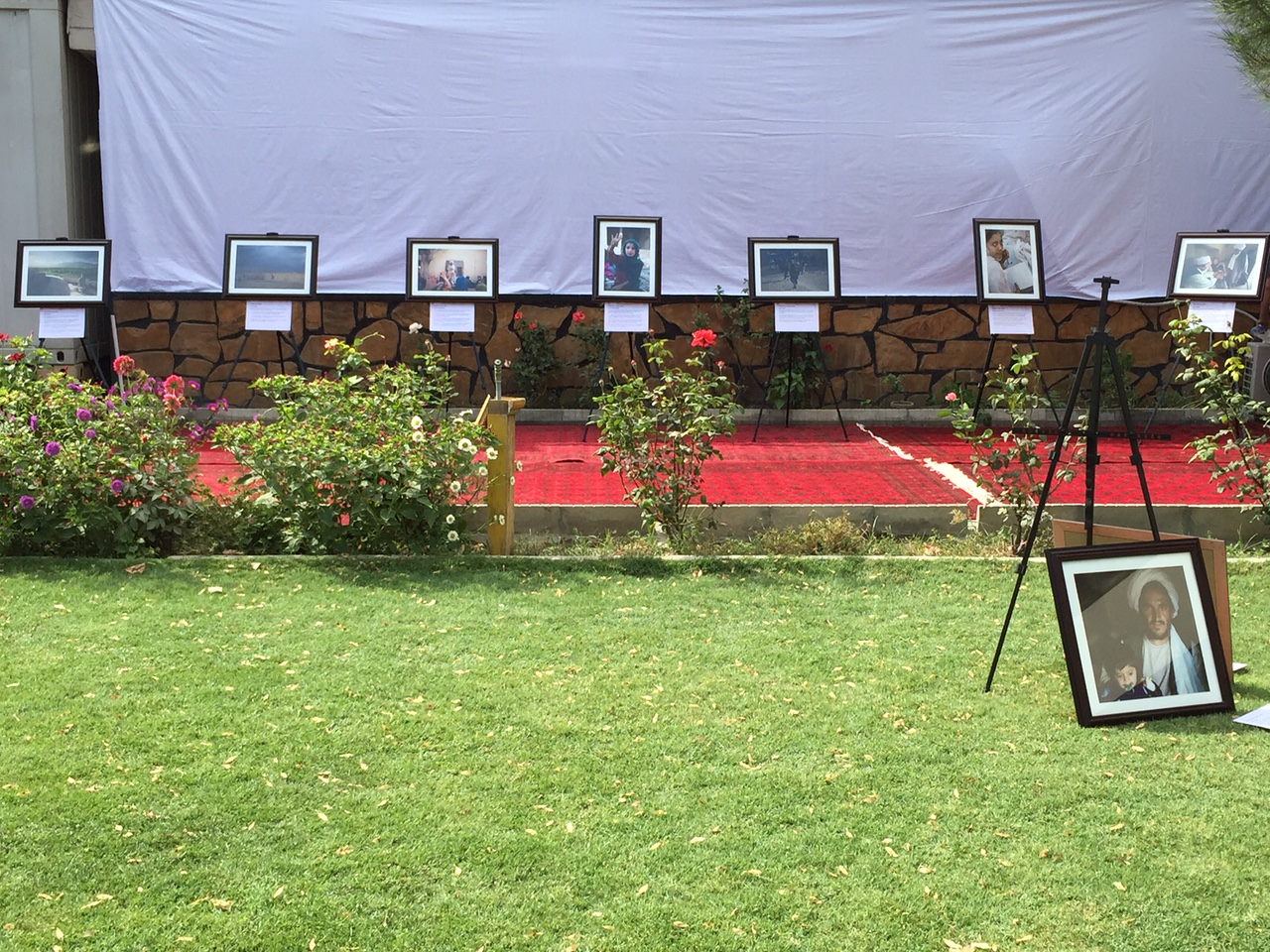 Photo: Some of the photos from the exhibition
More than 50 people attended the outdoor exhibition on the lawn of one of the embassy residences, including heads of missions from the US, Germany, Norway, Canada, Sweden and the UK; the Minister for Information and Culture, Ab Bari Jahani; and the Deputy Minister from the Ministry of Public Health, Ahmad Jan Naeem. The Australian Defence Force, which managed the Provincial Reconstruction Team in Uruzgan from 2010-2013, was represented by Brigadier Michael Annett.
Ambassador Matt Anderson opened the event with a speech acknowledging the achievements of Children of Uruzgan and the sacrifices of Afghan program staff who had lost their lives while attempting to improve those of others. He made a commitment to continue employing the lessons learned from the program in other work being supported by the Australian Government with Save the Children to help improve people's lives in remote communities and build the government's capacity in health and education.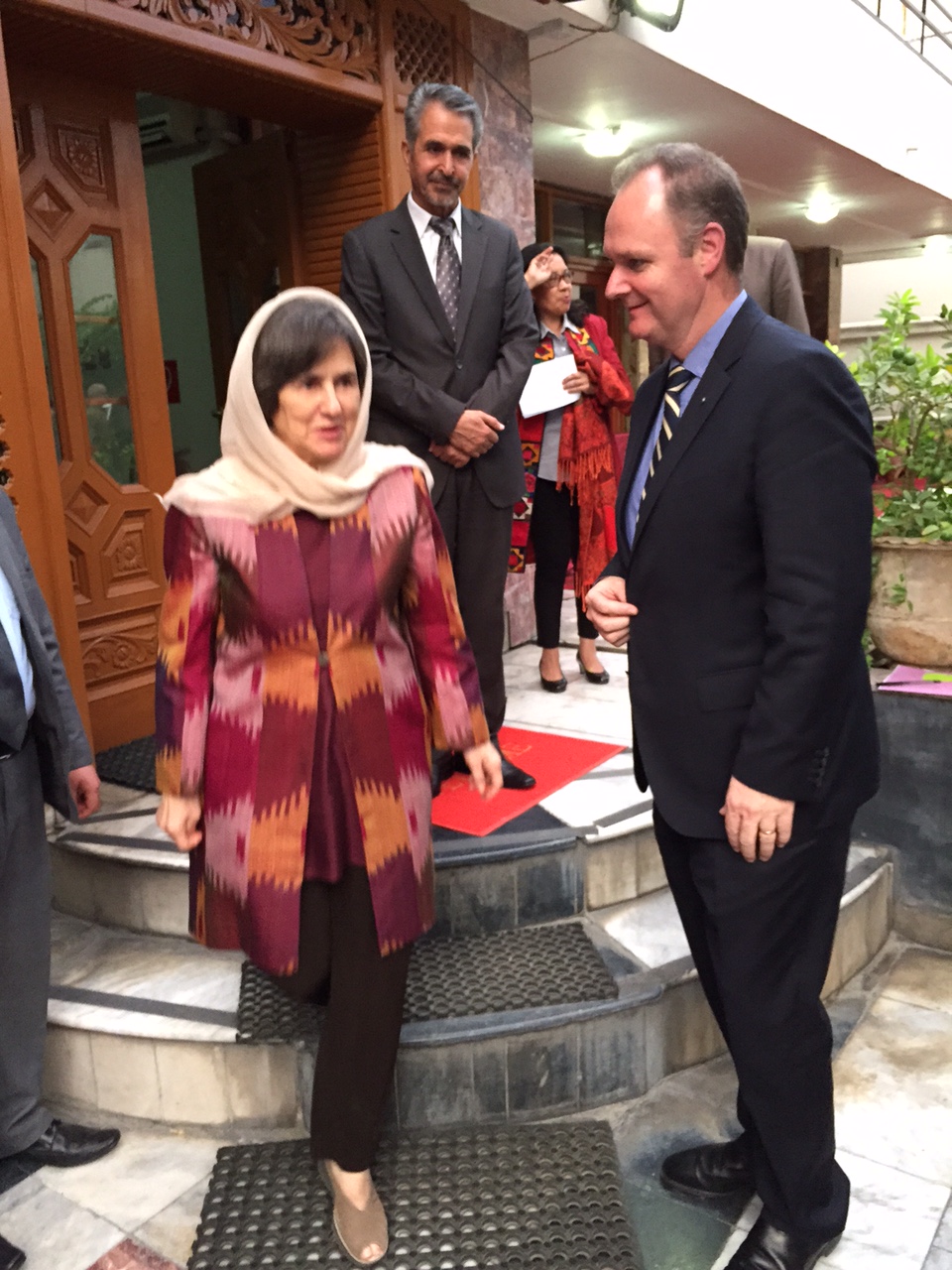 Photo: Ambassador Anderson with the First Lady
In her own speech, H.E. Mrs Ghani told the audience that the Afghan people were grateful for the ongoing international support for the needs of their communities. She said the Children of Uruzgan program was a good example of how development could make a real difference at the community level, particularly for women and girls.
She encouraged the international community to continue working with NGOs working with local partners throughout the country in support of the government's development priorities.

Kabul Direct Aid Program 2015/16 is Now Open
12 July 2015
Applications for the 2015/16 Direct Aid Program (DAP) are now open. DAP is a flexible small grants program funded from Australia's aid budget which is managed by the Australian Embassy Kabul.
DAP funding in Afghanistan is available on a not-for-profit basis to individuals, community groups and NGOs engaged in development activities in Afghanistan. The program focuses on supporting small-scale development projects and activities which can achieve practical outcomes related to community health and infrastructure, economic empowerment, youth, gender equality and poverty alleviation.
To be eligible for funding, projects must fall within the DAP guidelines. The Kabul DAP Committee will consider each application on its merits and make recommendations for funding based on expected development outcomes and whether the proposed project meets the guidelines.
To make an application for DAP funding for 2015/16 or to receive the guidelines for funding, please send an email to KabulDAP@dfat.gov.au
For further information on DAP, please see http://dfat.gov.au/aid/topics/development-issues/direct-aid-program/Pages/direct-aid-program.aspx

Female Members of the Afghan Parliament Visit Australia
14 June 2015
Three female members of the Afghan Parliament; Ms Shukria Barakzai, Ms Golalai Nur Safi, and Ms Farkhunda Zahra Naderi visited Australia from May 24 to 29, 2015 as part of an Afghan Female Parliamentary Delegation.
Invited by the Australian Government to discuss issues around the status of women and girls in Afghanistan, they met a number of Australian government officials and civil society representatives including Australia's Minister for Foreign Affairs, Julie Bishop, the Speaker of the House of Representatives Bronwyn Bishop, MP Nola Marino, President of the Australian Human Rights Commission, Ms Gillian Triggs, and the Australian Electoral Commission.
The purpose of this visit was to build linkages between Australia and prominent Afghan female MPs who are advocates for the role of women in parliament, the political process and women's rights more broadly. During this visit the Afghan MPs discussed key barriers and enabling factors enhancing women's leadership and political participation, economic empowerment and elimination of violence against women while Australian officials conveyed their support for Afghan women and girls.
They spoke at a number of public forums, including at the Australian National University in Canberra, and the University of NSW and the Lowy Institute in Sydney.
Supporting women's empowerment is both a foreign policy priority and development objective for Australia's work in Afghanistan. Through our aid program we prioritise efforts to stop violence against women, women's participation in economic activity, including as beneficiaries in rural livelihoods projects, and improving girls' literacy rates.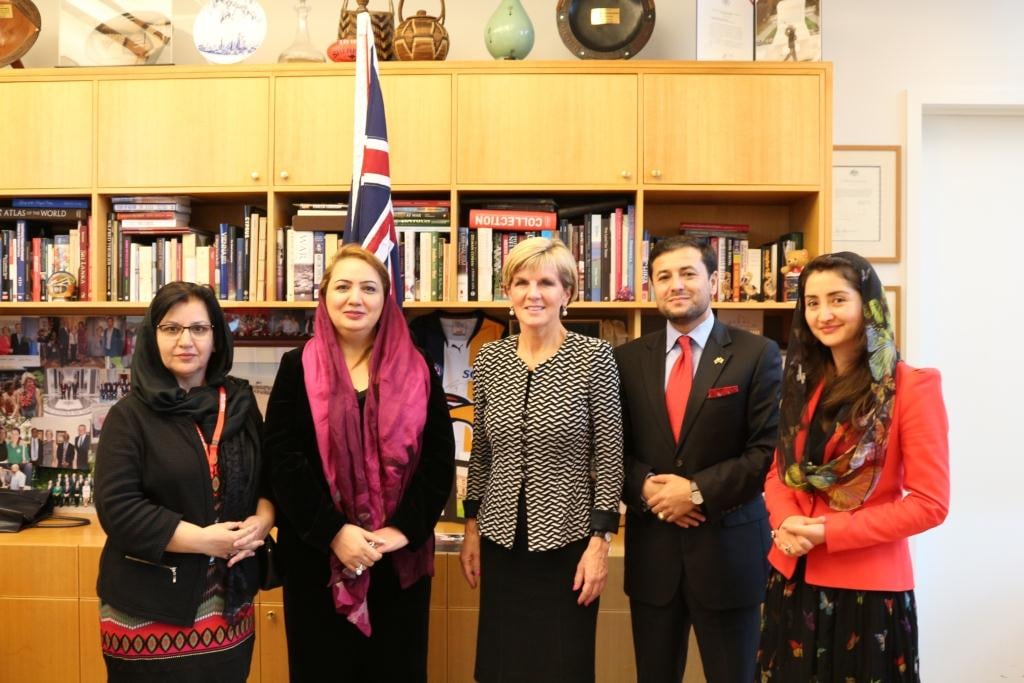 Photo: Afghan MPs Ms Golalai Nur Safi, Ms Shukria Barakzai, Ms Farkhunda Naderi and Afghan Ambassador to Australia Mr Nasir Andisha meet The Hon Julie Bishop in her office.

Discussions on Australia's Development Support for Afghanistan
6 June 2015

Australian Ambassador to Afghanistan, Matt Anderson, and Development Counsellor and Head of Aid, Scott Kelleher, met with President Mohammad Ashraf Ghani to discuss Australia's future development support for Afghanistan on Saturday, 6 June.
Meeting at the Presidential Palace in Kabul, the President and Ambassador discussed ways to further enhance bilateral relations and Australian assistance for Afghanistan.
Reiterating Australia's ongoing commitment, Mr Kelleher said that Afghanistan will become Australia's fourth-largest bilateral development program in 2015-16.
Afghanistan will receive more than AUD$80 million in development assistance focused on improving agricultural productivity, public financial management programs, support for ending violence against women and children, education, and humanitarian support for displaced people.
Australia is also providing USD$100 million per year for the next three years to support funding of Afghanistan's National Defence and Security Forces as part of its Chicago commitment to Afghanistan's peace and stability.
President Ghani thanked Australia for continuing to support Afghanistan and talked about the development challenges the country faces. The President reaffirmed Afghanistan's commitments to the Realizing Self-Reliance development agenda released at the London Conference in December 2014 and asked for Australian expertise in urban development and public financial management.
The meeting followed an earlier audience with Chief Executive Officer Abdullah Abdullah on 25 May. Ambassador Anderson and Mr Kelleher again discussed Australia's continued development support. Dr Abdullah said Afghanistan owed a debt of gratitude to Australia for the lives it had lost and for the support it continued to provide.
More information about Australia's Development Assistance to Afghanistan is available here: http://dfat.gov.au/geo/afghanistan/development-assistance/Pages/development-assistance-in-afghanistan.aspx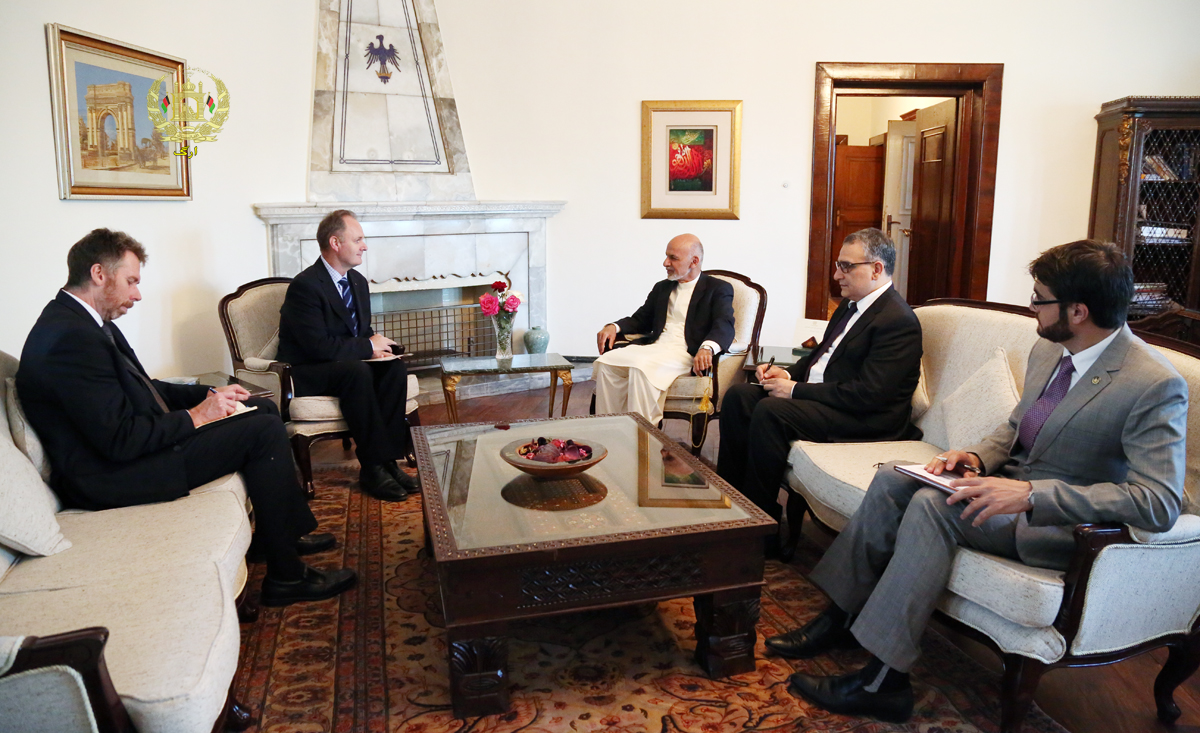 Photo: President Ghani meets with Australian Ambassador Matt Anderson and Head of Aid Scott Kelleher tdiscuss Australia\'s development assistance to Aghanistan
Australia Celebrates International Women's Day in Kabul
7 March 2015
Australian Ambassador Matt Anderson hosted a roundtable on women's empowerment with prominent Afghans to celebrate International Women's Day in Kabul on Saturday, 7 March.
The event provided an opportunity to discuss a range of issues including women in leadership and peace processes, women's economic empowerment, and eliminating violence against women.
Ambassador Anderson welcomed attendees including Shinkai Karokhel (member of the Afghan Parliament), Hasina Safi (Afghan Women's Network), Najla Ayubi (The Asia Foundation), Salma Popalzai (Women for Afghan Women), Musa Mahmodi (Afghan Independent Human Rights Commission) and Dr Abdul Basit (United Nations Population Fund).
Shinkai Karokhel (Afghan Member of Parliament) and Najia Ayubi (Deputy Country Representative, The Asia Foundation) at a women's empowerment roundtable hosted by Ambassador Matt Anderson in Kabul to mark International Women's Day.
Ambassador Anderson said increasing women's empowerment remains a focus of international community efforts in Afghanistan, including for Australia.
"Australia is pleased to be a part of International Women's Day celebrations in Afghanistan. Today's roundtable discussion provided a valuable opportunity to hear from Afghan women and men on the challenges and opportunities for women and girls in this country."
Ambassador Anderson noted Australia's strong support for women in Afghanistan, where Australia is providing AUD22.7 million over five years (2013-2017) to help eliminate violence against women.
"Through our advocacy and development assistance, Australia is a strong supporter of women's economic, social and political empowerment and committed to ending violence against women," the Ambassador said.
"As one of Australia's White Ribbon Ambassadors, increasing respect for women is something that I am personally focused on."
Participants discussed the instrumental role of education to women's empowerment, with Ms Hasina Safi arguing for 'education, then economic empowerment, then leadership'. The roundtable participants also discussed the need for increased market access for women, and for women to play a larger role in the Afghan civil service, where women hold only 10 per cent of decision-making roles.
The Ambassador also represented Australia at the Afghan Government's International Women's Day Event hosted by the Ministry of Women's Affairs on Thursday, 5 March.
Ambassador Anderson with Elzira Sagynbaeva (Country Director, UNWOMEN) and General Hikmar Shahi (Director, Gender and Human Rights Directorate, Ministry of the Interior) at the International Women's Day event at Amani High School auditorium on 5 March 2015.
More than 500 people filled the Amani High School auditorium to hear special guests President Ghani and First Lady Rula Ghani. President Ghani reiterated the commitment of the Afghan government towards the empowerment of women. Afghanistan\'s First Lady Rula Ghani emphasized that women\'s rights must be respected both within the family and society, and the gap between rural and urban women should be eliminated. "Women need to be supported," Mrs Ghani said. "No woman must be left out."
Ambassador Anderson was joined by other international representatives, members of the Afghan Parliament and ministries, civil society representatives, and women serving in the police and armed services. The Amani High school choir performed a song composed for the event.
The Ambassador met Muzhgan Mostafavi (Acting Minister, Ministry of Women's Affairs), Khojista Fanah Ibrahimkhel (Director of Gender and Human Rights, Ministry of Foreign Affairs), and Elzira Sagynbaeva (Country Director, UNWOMEN) who all recognised Australia's strong support for women in Afghanistan.
Ambassador Anderson with an Afghan female military pilot at the International Women's Day event on 5 March 2015.
Women's Day Award for embassy staffer
Semin Qasmi, Senior Program Manager at the Australian Embassy in Kabul, celebrated International Women's Day with an Award from the Afghan Women's Network (AWN) in recognition of her commitment to organisation's work over the past 13 years.
AWN was celebrating both International Women's Day 2015 and its 20th Anniversary on 8 March. AWN is the largest advocacy network in Afghanistan, with over 125 organisations and 5000 individual members. AWN seeks to empower Afghan women and to ensure their equal participation in Afghan society.
Ms Qasmi has been managing the Australian Embassy's gender and human rights programs for the past three years and has been a contributor to AWN's work since 2002, as both an active board member (2005-2006) and through providing on going technical support and advice to the AWN Secretariat and AWN's member organisations.
Australia-Afghanistan Community Resilience Scheme
25 February 2015
On 25 February, 2015, Ambassador Matt Anderson signed a Memorandum of Understanding with the Ministry of Economy on the Australia-Afghanistan Community Resilience Scheme (AACRS). The AACRS is a $25 million investment by Australia over four years (2014 to 2018) and will be implemented in 10 provinces in the central highlands, and north and west Afghanistan. It will directly benefit 95,000 rural Afghans.
For more information, see the Ministry of Economy's article here (Dari).
Duntroon Sword of Honour Presentation in Kabul
5 February 2015
On 5 February, Ambassador Matt Anderson was privileged to present the \'Duntroon\' Sword of Honour to Officer Cadet Mohammad Asad, the top graduating cadet from his class at the Afghan National Army Officer Academy. The award, a 1897 Infantry Sword, is named for Australia's premier Army officer training establishment, the Royal Military College (RMC) Duntroon
Ambassador Matt Anderson presents the \'Duntroon\' Sword of Honour to top graduating cadet Mohammad Asad
In presenting the award, Ambassador Anderson – himself a Duntroon graduate – congratulated the cadets on their achievements during training and emphasised the importance of moral courage as a key pillar of successful junior leaders. He called on the graduates to lead their subordinates well by showing integrity and selflessness and by putting the welfare of their men and women before their own.
Sword of Honour recipient Officer Cadet Asad (centre), with Ambassador Anderson and Colonel Andrew Fidge, Defence Attaché
Ambassador Anderson reaffirmed Australia\'s friendship with Afghanistan and the commitment made by Australia's civilian and military personnel. He marked the sacrifice made by the 41 Australian soldiers killed in Afghanistan since 2001, operating alongside their Afghan comrades-in-arms.

Afghan National Army Officer Academy cadets march past senior Afghan military officers and visiting dignitaries
Farewell and Good Luck to the Afghan National Cricket Team
29 January 2015
Ambassador Matt Anderson farewelled the Afghan National Cricket team ahead of their travel to Australia for the ICC World Cup on 29 January 2015.
Afghanistan\'s national cricket team with Ambassador Anderson
At an afternoon reception at the Ambassador\'s residence, he wished the team luck in their first match against Bangladesh in Canberra. He also presented the team with a framed cricket bat signed by the Australian Team that the Afghan side played in 2012.
Ambassador Presents ANSF with Counter IED Equipment
28 January 2015
On 28 January 2015, Australia\'s Ambassador to Afghanistan, Matt Anderson, hosted a delegation of senior Afghan and Coalition military officers and officials at the Australian Embassy in Kabul to recognise the first deliveries of counter improvised explosive device equipment that will increase protection offered to Afghan National Security Forces. These Australian designed and manufactured force protection systems which counter improvised explosive devices were sponsored through Australia's contribution to the Afghan National Army Trust Fund.
From left to right: Commander Joint Task Force 636 Major General David Mulhall, AM, CSC; Ambassador Matt Anderson; Afghan Ministry of Interior Director General of Planning, Policy and Operations, Major General Naimatullah Haidari; Afghan Ministry of Defence Deputy of General Staff, Engineering Department for CIED, Brigadier General Sana Ul Haq; Afghan National Directorate of Security Director of Department 124, Mr Mahir Yaqoubi; and Defence Attaché Colonel Andrew Fidge
The Ambassador said delivering the first of the personnel devices, which were distributed to Afghan officials at the ceremony, marked an important milestone in Australia's relationship with Afghanistan. Over the next four months the remaining devices will be delivered to the ANSF, improving survivability rates for the important summer fighting season.
Minister for Foreign Affairs, The Hon Julie Bishop MP, visits Afghanistan
26 January 2015
The Hon Julie Bishop MP, Minister for Foreign Affairs of Australia, paid a visit to Kabul on Australia Day, 26 January, 2015. During her visit, the Foreign Minister met with H.E. President Mohammad Ashraf Ghani, H.E. CEO of the Government Dr Abdullah Abdullah, H.E. Acting Foreign Minister Afiqullah Atifmal, as well as leading Afghan women\'s rights proponents and Australian troops.
The Minister\'s media release for the visit can be found here.
Australian Ambassador to Afghanistan, H.E. Matt Anderson, presents credentials to H.E. President Ghani
24 January 2015
The new Australian Ambassador to Afghanistan, H.E. Matt Anderson, presented his credentials to H.E. President Mohammad Ashraf Ghani on Saturday 24 January, 2015, during a ceremony at the Presidential Palace. In their meeting following the ceremony, Ambassador Anderson told President Ghani that he would work to build on the already-strong relationship between Australia and Afghanistan.
Change of Command for Mentors in Kandahar
Australia's ongoing mentoring commitment to the Afghan National Army's 205th Hero Corps in Kandahar has been recognised during a Transfer of Authority ceremony at Camp Baker in southern Afghanistan. Find out more here.