Media Releases - 2014
Farewell message from His Excellency, Jon Philp, Australian Ambassador
9 December 2014

I am genuinely sad to be leaving Afghanistan at such an important time for its future. Over the two years that I have served here, I have seen remarkable developments, including a peaceful national election culminating in the first democratic transfer of power from one President to another.

The National Unity Government has an exciting opportunity to deliver on the aspirations of the people of Afghanistan with its reform agenda.

Australia is committed to helping Afghanistan continue to build on the progress achieved over the past decade. During my time here we've made a substantial contribution to international efforts to stabilise and rebuild Afghanistan. Our development program has contributed to international and Afghan Government efforts to eliminate violence against women, to educate Afghan children, especially girls, and to provide humanitarian assistance where it is most needed.

Our development assistance has gone hand-in-hand with the tremendous work of our Australian Defence Force, which continues to provide training and capacity building assistance to the ANA. As Ambassador, I was privileged to oversee the successful closure of our Provincial Reconstruction Team in Uruzgan, which worked closely with the Uruzgan community on security, education and infrastructure for over four years.

I commend the Afghan people for their remarkable spirit as they work together with Australians to build a peaceful and prosperous future.

--------------------------------------------------------------------------------
MINISTER FOR FOREIGN AFFAIRS - The Hon Julie Bishop MP
AUSTRALIA'S ONGOING COMMITMENT TO AFGHANISTAN
4 December 2014

Australia today joins with key partners at the 'London Conference on Afghanistan' to engage the new Afghan Government on its reform agenda and reaffirm the Australian Government's commitment to support Afghanistan's peaceful development.
The Australian Government continues to advance security and stability in Afghanistan, including through our development assistance program.
As part of this, Australia will provide over 4,100 tonnes of food to more than 112,000 food insecure Afghans over the winter through funding of $5 million to World Food Programme. Australia will also provide $8 million to the United Nations Common Humanitarian Fund to meet emergency health, nutrition and protection needs for up to 3.4 million Afghans in 2015.
Australia's High Commissioner to the United Kingdom, Alexander Downer will represent Australia at the Conference and make Australia's funding pledge.
This year, Australia will provide $134.2 million to promote economic growth, empower women and girls, and provide humanitarian assistance in Afghanistan.

--------------------------------------------------------------------------------
International Day for the Elimination of Violence against Women
25 November 2014


On 25 November, the Australian Ambassador hosted members of the Afghan Women's Network, UNWomen and Afghan Member of Parliament, Dr Nilofar Ibramihi, for an event to mark International Day for the Elimination of Violence Against Women.

Australia's Elimination of Violence Against Women Program provides over $22 million in funding to partner organisations to deliver activities that support national efforts to end violence against women in Afghanistan. Violence against women is a significant human rights violation which severely limits women's social, economic and political participation.

"Society benefits politically, economically, and in terms of peace and security when women are included – meaningfully included – in all aspects of political and social life," said H.E. Jon Philp. "All of you here today know, better than I, that the costs and consequences of violence against women last for generations. This is why protecting women from violence - given the alarming rate of violence against women in Afghanistan - is so critical."

Also known as White Ribbon Day, the United Nations International Day for the Elimination of Violence Against Women aims to create momentum towards ending violence against women.

In many countries, including Australia, male-led organisations such as the White Ribbon Foundation use 25 November as the culmination of their annual campaigns to change attitudes and behaviours that lead to and perpetuate men's violence against women, by engaging boys and men to lead social change.

--------------------------------------------------------------------------------
United Nations Secretary-General condemns the 23 November Paktika attacks
Tuesday, 25 November 2014

The Secretary-General strongly condemns the suicide attack on civilians in Afghanistan's Paktika province on 23 November, which killed at least 50 people and injured more than 60 others. He denounces this attack against men, women and children who were enjoying a community sporting event not only as a grave violation of Afghan and international law, but as fundamentally abhorrent.

The Secretary-General expresses his deepest sympathies to the families of those killed and injured, and his steadfast solidarity with the people of Afghanistan in refusing to be cowed by such attacks. He hopes those responsible will be brought swiftly to justice.

The members of the Security Council condemned in the strongest terms the suicide attack on 23 November 2014 in Paktika, Afghanistan, which caused many deaths and injuries to civilians, including many children.

The members of the Security Council expressed their deep sympathy and condolences to the families of the victims, and to the people and Government of Afghanistan. They wished the injured a speedy recovery.

The members of the Security Council reiterated their serious concern at the threats posed by the Taliban, Al-Qaida and other terrorist and extremist groups, and illegal armed groups to the local population, national security forces, international military, and international assistance efforts in Afghanistan, particularly in light of recent terrorist attacks elsewhere in the country.

The members of the Security Council underlined the need to bring perpetrators, organizers, financiers and sponsors of these reprehensible acts of terrorism to justice, and urged all States, in accordance with their obligations under international law and relevant Security Council resolutions, to cooperate actively with the Afghan authorities in this regard.

The members of the Security Council reaffirmed that terrorism in all its forms and manifestations is criminal and unjustifiable, regardless of its motivation, wherever, whenever and by whomsoever committed, and should not be associated with any religion, nationality, civilization or ethnic group.

The members of the Security Council reaffirmed the need and reiterated their determination to combat by all means, in accordance with the Charter of the United Nations and all obligations under international law, in particular international human rights, refugee and international humanitarian law, threats to international peace and security caused by terrorist acts.

The members of the Security Council reiterated that no terrorist act can reverse the path towards Afghan-led peace, democracy and stability in Afghanistan, which is supported by the people and the Government of Afghanistan and by the international community.

--------------------------------------------------------------------------------
Changes to resettlement another blow to people smugglers - Media Release
Tuesday, 18 November 2014

Asylum seekers who registered with UNHCR in Indonesia on or after 1 July 2014 will no longer be eligible for resettlement in Australia, Minister for Immigration and Border Protection, the Hon. Scott Morrison said today.

Australia will continue to resettle some refugees who registered with UNHCR in Indonesia before 1 July 2014, however there will not be as many places allocated, meaning the waiting period in Indonesia to be resettled in Australia will be much longer.

Minister Morrison said the Government does not support asylum seekers travelling illegally to transit countries in search of more favourable resettlement destinations.

'The Government's policies under Operation Sovereign Borders have not only saved lives at sea, but also allowed more places under our humanitarian programme for the world's most desperate and vulnerable refugees. It is important that these places are not taken up by people seeking to exploit the programme by shopping for resettlement through a transit country.'

In 2014–15, Australia's Humanitarian Programme will provide 13,750 places. These will include 11,000 places for people overseas, nearly all of whom will be in countries of first asylum.

The Indonesian government has been briefed on this decision, which is designed to reduce the burden, created by people smugglers, of asylum seekers entering Indonesia.

Operation Sovereign Borders update

November 2014

Operation Sovereign Borders (OSB) is a military-led, border security operation supported and assisted by a wide range of federal government agencies to combat people smuggling. Fact sheets on OSB are available in English, Dari and Pashtu here.

--------------------------------------------------------------------------------
Australia welcomes Afghanistan's government of national unity
Security Council Press Statement on Afghanistan election
The members of the Security Council welcomed the conclusion of Afghanistan's presidential election and the agreement signed today in Kabul between the two leading presidential candidates, Dr Ashraf Ghani and Dr Abdullah Adbulllah, to establish a Government of National Unity.

The members of the Council recalled the courage and determination of the Afghan people who participated in the electoral process in large numbers despite threats and intimidation by the Taliban and other violent extremist and terrorist groups. They emphasised the importance of all parties in Afghanistan working within the framework of the Government of National Unity in order to achieve a unified, peaceful and prosperous future for all the people of Afghanistan.

The members of the Council recognised the role of the Afghan electoral institutions in conducting the comprehensive audit into the presidential vote. They commended the UN Assistance Mission in Afghanistan (UNAMA), other UN agencies, and the Special Representative of the Secretary-General for the effective and critical support provided to Afghan institutions throughout the electoral process, and acknowledged the valuable role of international observers and Afghanistan's international partners.

The members of the Council looked forward to working with the Government of National Unity, and to the further strengthening of Afghanistan's electoral system and democratic processes.

The members of the Council reiterated their commitment to support Afghanistan on its path towards peace, reconciliation, democracy and development. They called for the new Afghan Government to effectively address the issues facing the country, including security, good governance, human rights, in particular for women and children, democracy and the fight against corruption, as well as economic recovery, improving the livelihood of its people and the cross-cutting issue of counter-narcotics.

The members of the Council reiterated their condemnation of violent and terrorist activities by the Taliban, Al-Qaida and other extremist groups aimed at destabilizing the situation in the country, and reasserted that no terrorist act can reverse the path towards Afghan-led peace, democracy and stability in Afghanistan, which is supported by the people and the Government of Afghanistan and by the international community.


--------------------------------------------------------------------------------
Victorian State Election - 29 November 2014
Australian citizens registered to vote in Victoria are advised that the Victorian State Election has been announced for 29 November 2014. Voting services will not be available from the Australian Embassy, Kabul for this election. The Victorian Electoral Commission (VEC) can be contacted directly for any election-related enquiries:

VEC website: http://www.vec.vic.gov.au/
www.vec.vic.gov.au/
Telephone: +61 3 8620 1100, or
E-mail: info@vec.vic.gov.au

--------------------------------------------------------------------------------
Australian Minister for Foreign Affairs Julie Bishop MP welcomes Afghan National Cricket Team to Canberra during Australian tour

The Hon Julie Bishop MP, Minister for Foreign Affairs of Australia, welcomed the Afghan National Cricket Team to Canberra on 25 September 2014 ahead of their participation in the 2015 International Cricket Council (ICC) World Cup.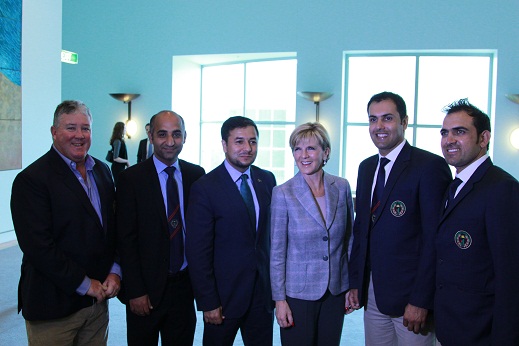 The team was taking part in a three-week playing tour of Australia and New Zealand in preparation for its first ever appearance at the 50-over World Cup tournament. Whilst in Canberra, the Afghan team played a practice match against the ACT Comets at Manuka Oval. The match was attended by Afghanistan's Ambassador to Australia His Excellency Nasir Andisha and Australia's Ambassador to Afghanistan Jon Philp.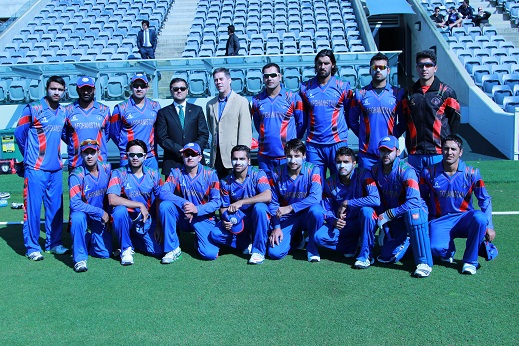 The Australian Government recently supported the Afghanistan Cricket Board's Twenty20 cricket tournament by providing funds to purchase uniforms, playing equipment and first aid supplies. This support is helping to foster the next generation of cricketers from Afghanistan.
--------------------------------------------------------------------------------
Australia Provides Cricket Equipment for Afghan Sixes Tournament
Australia's Acting Ambassador to Afghanistan, Mr Shane Flanagan, presented cricket equipment purchased by the Australian Embassy to the Afghan Cricket Board (ACB) on 25 August 2014. The equipment will be used during the upcoming Shpageeza (Sixes) Tournament commencing on 26 August 2014. "Australia and Afghanistan share the same great passion for cricket, so we greatly value this opportunity to support Afghan cricket" Mr Flanagan said.

Links to media coverage of the presentation ceremony can be found below:

http://www.pajhwok.com/en/2014/08/25/australia-gives-acb-cricket-gear

https://www.youtube.com/watch?v=1LwjrBbc7zw

https://www.youtube.com/watch?v=OixvL3JzNpQ

--------------------------------------------------------------------------------
A partnership for promoting music
August 7, 2014

The Australian Embassy recently provided funding for projects run by the Afghan National Institute of Music (ANIM).

ANIM was established in 2010, and its aim is to offer the chance for all talented Afghan youths to have the opportunity to study in a world-class music institute to become professional musicians and music educators.

The full story can be found on the Afghan news website 'Sada-e Azadi' here.

--------------------------------------------------------------------------------
Ambassador Philp all praise for Afghan cricket squad
August 5, 2014

In an interview with Pajhwok Afghan News on Tuesday 5 August 2014, Ambassador Jon Philp applauded Afghanistan's achievements in cricket. Read the article at: http://www.pajhwok.com/en/2014/08/05/philp-all-praise-afghan-cricket-squad
--------------------------------------------------------------------------------
Condolence Book in Support of those Tragically Killed on Flight MH17
On Tuesday 22 July, Prime Minister Tony Abbott, Governor-General Sir Peter Cosgrove, members of the Diplomatic Corps and others signed the Commonwealth of Australia Condolence Book in support and sympathy to the families of those tragically killed on Flight MH17.

The Condolence Book will be made available to all who wish to record their condolences to the families and loved ones of those lost on MH17. In time, a copy of the Condolence Book will be provided to each of the Australian families.

If you would like send your own message of condolence to those Australians who lost loved ones, you can do so by following this link.

The Prime Minister also welcomed the United Nations Security Council's adoption of a resolution calling on the armed separatist groups controlling the MH17 crash site to allow unfettered access to international investigators. Australia played a lead role, authoring the resolution which was adopted in New York on 21 July.

A copy of the Prime Minister's statement about the resolution can be found here.

--------------------------------------------------------------------------------
UN Security Council Condemns 15 July Paktika and Kabul Attacks
Wednesday 16 July

The Australian Embassy in Kabul joins the United Nations Security Council and others in strongly condemning the attacks in Paktika and Kabul on Tuesday 15 July 2014.

--------------------------------------------------------------------------------
Minister for Foreign Affairs Ramadan Message
27 June 2014
I extend to Muslims in Australia, and throughout the world, best wishes for the holy month of Ramadan, which begins this week.
Ramadan is a time for reflection, spiritual devotion and renewal. Muslim families around the world come together this month to celebrate their faith and their communities. By fasting, and through acts of charity, Muslims also remember those less fortunate than themselves.
In Australia, this month is an opportunity for us to honour the important contribution our Muslim brothers and sisters make to our nation. Muslim Australians have helped build a more diverse, more productive and more prosperous country for us all.
Australia's Muslim citizens belong to over 60 ethnic groups, linking Australia to some 1.5 billion Muslims worldwide. These links underpin our trade, and our friendly relations, with Islamic nations.
As Australian Muslims celebrate Ramadan, many will be thinking of relatives suffering displacement, unrest and conflict in the Middle East and elsewhere. My thoughts are with them, and I share their hopes for peace.
Ramadan offers a message of tolerance, compassion and hope - a universal message that everyone can share. Ramadan Mubarak.
--------------------------------------------------------------------------------
MINISTER FOR FOREIGN AFFAIRS - The Hon Julie Bishop MP

VOTING CONCLUDES IN AFGHAN PRESIDENTIAL ELECTION
16 June 2014
The Australian Government welcomes the conclusion of the final round of voting in the Afghan Presidential elections.

The election, held on 14 June, has been managed successfully by the Afghan election authorities and I commend them and the work of the Afghan security forces in achieving this historic milestone.

The Afghan people defied attempts by armed insurgent groups to disrupt the process and have spoken decisively in favour of democracy. I applaud their courage and commitment to a peaceful Afghanistan.

Australia has supported the Afghan electoral process by helping to build more effective institutions. Australian funding for domestic and international observers has helped to preserve the integrity of the voting process.

Civic awareness programs also encouraged increased voter participation.

Australia remains committed to progress in Afghanistan including through the provision of development assistance and our continued support for the Afghan National Security Forces.

--------------------------------------------------------------------------------
Australia Commemorates 99th ANZAC DAY
24 April 2014
Each year on 25 April, Australians and New Zealanders gather to remember the servicemen and women who have served their nation in times of war, in conflicts or peacekeeping operations. This has particular relevance in Afghanistan, where Australian and New Zealand servicemen and women have served shoulder to shoulder with Afghans and international partners over recent years. On 25 April 1915, 99 years ago, thousands of Australians, New Zealanders, Indians, French, Canadians and British landed on the shores of Gallipoli beginning a hard-fought campaign that lasted eight months. More than 8,700 Australians lost their lives during the Gallipoli campaign, with more than 2,000 Australians casualties on the first day alone.
Anzac Day goes beyond the anniversary of the landing on Gallipoli in 1915. It is the day on which we remember Australians who served and died in all wars, conflicts, and peacekeeping operations. The spirit of Anzac, with its human qualities of courage, mateship, and sacrifice, continues to have meaning and relevance today.
August this year will mark 100 years from the beginning of Australia's involvement in World War One. Australians are also encouraged to take part in sharing the Anzac Spirit on the Anzac Centenary Facebook page. Share your photos, stories and experiences of Anzac Day with your family friends and community. Australian diplomat Fred Smith, who was twice posted to Uruzgan, has recorded a range of his songs for the commemoration of Anzac day, which can be found here. For information about Anzac Day, including historical information, education resources and details on how to organise a local commemoration, visit www.dva.gov.au/anzac